London Irish United for Life march in London as pro-life groups hit the streets all over Ireland.
This past St. Patrick's Day saw pro-life groups, in Ireland, England, and America, getting involved in parades, and getting involved in the celebration of Ireland that St. Patrick's Day represents. And it's only natural that they'd be there. St. Patrick's Day is our opportunity to celebrate the best of what it means to be Irish. There's a long list of things we have to be proud of as a country, but we'd have to say the 8th amendment, and the lives it has saved, is certainly near the top of that list.
LONDON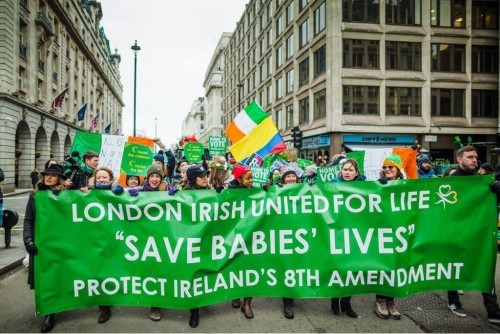 London Irish United for Life turned up in big numbers to march in solidarity and support with our fight to #savethe8th. Over here we can sometimes forget that there's Irish abroad, who can legally come home and vote in the upcoming referendum, and who want to see the 8th saved. They can't fight for the 8th, for the right to life of the unborn, from abroad, and we need to fight for them, as well as for the unborn, to make sure that when they come home they come back to an Ireland that still supports all human life!
NEW YORK
New York still refuses to allow pro-life groups to march in the parade, despite having agreed to do so in 2015, but these girls still showed up to represent us! We also had people in towns and villages all over Ireland either presenting us at the parade or setting up information stalls on the parade route.
LEITRIM
St. Patrick's Day is a celebration, but it's also a day to remember that Patrick himself spent time as a slave, as someone who was not recognised as human, and who could be legally killed if his owner wished. We should remember that there was a time when this was seen as perfectly just, because slaves where not people, they were property, and what you did with your property was your choice. A horrible time, and yet someone from that time would recognise many of the arguments being put forward by the pro-abortion side now, particularly the absolutely awful line, 'they're not human'.
St. Patrick went from being a slave to the patron saint of our country and is now seen as a symbol of Ireland across the globe, which goes to show you what can be achieved when people recognise the humanity of others and let them achieve their potential!